SEO

Services That Drive Business Growth
A substantial majority of our clients utilize our SEO services. We are experts in search engine optimization and can outdo any competitor.
Our SEO services are available to all types, sizes, & target markets – from a local startup to a global brand. Through search engine optimization, we will earn a tangible presence on Google that attracts qualified, sales-ready visitors to your website, driving lead generation, increasing customer acquisition, and building a sustainable revenue stream.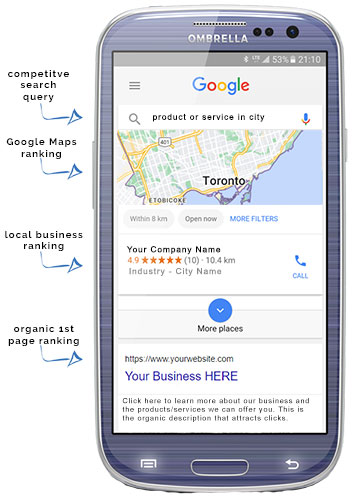 MORE

LEADS

& MORE

CUSTOMERS

WITH EXPERT SEO SERVICES
SEO is one of the most powerful capabilities we can develop for clients in terms of generating healthy, ongoing revenue streams. We build and earn strategic positions across the Internet – specifically search engines like Google – that showcase your company directly to your target audience at the exact time they need or want what your business has to offer.
Our SEO services earn your website a competitive presence across the web with a proprietary approach that targets the majority, if not all, of your target market, achieving top organic rankings while focusing on instilling confidence in your audience through marketing, advertising, and sales best practices. The combined effort attracts qualified visitors and increases conversions – more leads and more customers/sales for your business.
Start growing your business with Ombrella. With a client retention rate of 98%, we are a trusted SEO agency for companies across North America.
If you would like a free quote or consultation for SEO services, request one here!
SEO SPECIALITIES
Business Websites
E-Commerce
Multi-Country
Multi-Language
International SEO
Landing Pages
Local SEO
National & Global SEO
Reputation Management
Conversion Optimization
Penalty Recovery
French & Spanish SEO
B2B SERVICES COMPANY
I have had experience with 2 other SEO marketing companies in the past and walked away disappointed and confused. Too many empty promises… Ombrella gave me an honest marketing plan and an affordable website. I wish I had signed on with them years ago! They are true professionals in their field!
John P. of Pro-Clean
OMBRELLA SEO SERVICES
& DELIVERABLES
Our SEO Services aim to deliver:
Increased Market Share and Company Revenues
A substantial increase in qualified leads, sales/customers, and customer retention via online channels. Simply put, quantifiable business growth.

Surge in Website Visitors & Quantifiable Analytics
Consistent increases in website visitor count, time spent on the website, the number of pages visited, return visits, and other valuable online analytics, month over month.

Compelling Brand & Business Reputation
A tangible online reputation that instills confidence in your audience that your company delivers satisfaction while attracting web visitors and increasing word-of-mouth referrals both online & offline.

Be Found Online Everywhere
Whenever someone is searching or exploring your industry, services and/or products, your business is seen, across search engines, directories, industry-related websites, news sites, social media, and various other online mediums, at the exact time they need or want what your business has to offer.

Dominate All Google Platforms
Google is by far the most powerful medium to attract qualified web visitors for lead generation and customer acquisition. Our solution targets every possible word, phrase, question, and search query, ranking your website on the first page for maximum acquisition. We earn rankings on all Google platforms. Furthermore, our aim is to constantly increase the number of single query/page rankings that we've earned, often placing your business on the first page multiple times.
SEO Client Study
Client: Pro-Clean Janitorial Services
Website: pro-clean.ca
Industry: B2B Service Provider / Cleaning
Services: Website Design & SEO
Our efforts led to:
400% increase in website visitors.

157% increase in search visibility.

84% decrease in cost per lead.

$750,000+ a year in qualified sales leads.

1st page Google domination across all keywords.

100+ competitive keywords ranked on 1st SERP.
The effort required to dominate SEO is different for every business, based on the uniqueness of the industry, geographical market, and competition. In order to determine what is required, we do an audit assessment of your current online capabilities, formulating a strategic plan that lays out what we need to do to achieve full search engine optimization dominance. This solution is very effective at building healthy revenue streams via demand generation/inbound marketing, but also requires specific time frames in order to achieve.